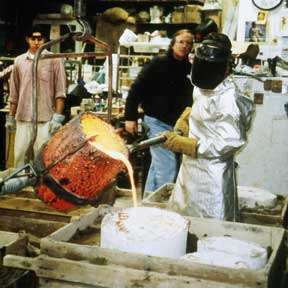 I have been teaching bronze casting and moldmaking at Cabrillo Community College since 2004, and have been teaching casting at UC Santa Cruz somewhat on & off since 2000.
Not all of the following courses are offered each semester or quarter:
Cabrillo Art 34A/B: Sculpture: Direct Processes I/II
From Cabrillo course catalog: Introduces beginning level materials and processes in sculpture. Prerequisite: ART 5 or equivalent skills. Hybrid Requisite: Completion of or concurrent enrollment in ART 50L. Transfer Credit: CSU; UC.
Sean's course handouts.
Cabrillo Art 35: Sculpture Casting
From Cabrillo course catalog: Presents intermediate level bronze casting for sculptural purposes, utilizing lost
wax method and rigid investments. Includes patination and presentation. Transfer Credit: CSU.
Sean's course handouts.
UCSC Art 188: Intermediate/Advanced Sculpture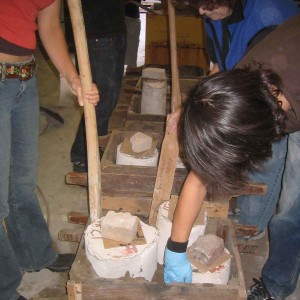 From UCSC course catalog: This intermediate/advanced course provides the information and facilities necessary to express ideas through the indirect process of metal casting. The "lost wax" method is used to manifest ideas in sculpture. Lectures and demonstrations are combined with work time in class. Students generate sculpture forms in wax then gate, invest, weld, chase, patina, and present at least one finished piece. Students are billed a materials fee. May be repeated for credit. (Formerly course 139.) Enrollment restricted to art majors.
Sean's course handouts.